The amount of tools out there for collaborating with a team is seemingly endless. Email just doesn't cut it any more. With that in mind, we've collected ten team collaboration tools that can work separately or together to make your team communicate better, collaborate more effectively, and get more done.
For creative teams:
If your team consists largely of creatives, you know they can take some extra wrangling (and I say this as a visual person myself). Creative people are often visual thinkers, and traditional project management or collaboration tools can feel stifling or overwhelming. Personally, I can't work without a month or week calendar to look at. Don't ask me why, but every time I try, I fail.
Given all of that, here are some tools that are a little more suited to creating happy, productive creative teams: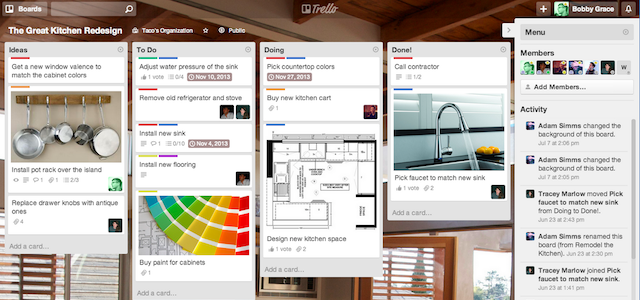 Trello
You've probably heard of Trello, but if you haven't, your mind is about to be blown. It's a great project management tool–super simple and quick to get the hang of. There's drag and drop cards spread across different columns on the screen. You can use it kanban-style, like the demonstration image, where the tasks move from left to right as they're worked on. Or you can use the columns to categorize tasks–it's up to you.
Don't let the intuitive design fool you; there's some surprisingly deep functionality here that includes integrations with Dropbox and Drive, file attachments, subtasks, a calendar view for tasks and milestones, color coding, and more.
Price: Free for most functionality. You can upgrade to business class for $5/user/month or $45/user/year, which includes larger attachment size, backgrounds, and more add-ons.
Apps: iOS, Android, Kindle, and Windows (free)
Droptask
Droptask is also a visual project management tool, but it takes a totally different route than Trello. Instead of being column/card based, it's "drop" based. You can create these "drops" for each category or stage of a task, color code them, mark them as in progress, on hold, or completed, and add comments, files, and subtasks. Basically, it's all of the functionality of a full-scale project management tool, but it's designed to convey important information at a glance. The mobile apps are great, too, giving the same easy, visual experience you get on the web.
Price: Free option, the pro upgrade starts at $6.50/user/month
Apps: iOS, Android (free)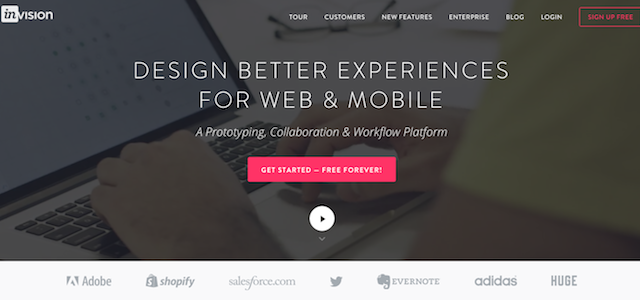 InVision App
InVision App isn't a project management tool, but it can still help you collaborate better if you need to design and share prototypes. It's easy to use from both sides, and it can streamline your mockup and feedback process with clients (potentially saving everyone hours of digging through email chains, looking for that one piece of feedback). It also has a built in tool for meetings (with automatic recording of those meetings, to save client and team commentary) and version control.
Price: Free plan with one active project, paid plans start at $15/month
Apps: No dedicated apps, but it's designed to be usable on smaller screens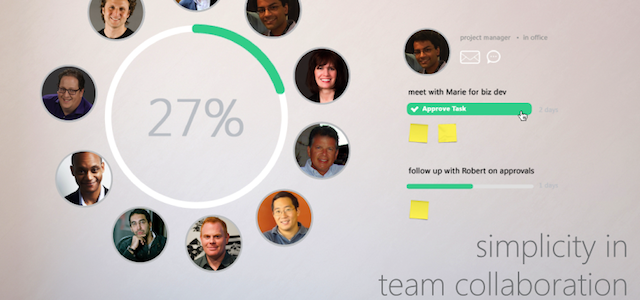 Canvs+ 
Canvs+ is a new player in the visual project management game. Their goal appears to be to help out larger teams with at-a-glance functionality (color coding that automatically shows you if a project is behind schedule, a percentage tracker for progress) and a focus on drag-and-drop features (including drag-and-drop to assign a team member to a task, or to comment on a task). Given that the visual project management sphere is so small, it'll be interesting to see how Canvs+ works once it's released for full sign-ups.
Price: No public pricing yet
Apps: None yet 
For the team with lots of notes: 
Depending on how your team works, you might wind up with a lot of text-based communication–especially if you're scattered across time-zones and around the globe. Sometimes, these notes are disposable, but sometimes, they're more important. Keeping track of all of those notes can be a difficult task; these apps can help: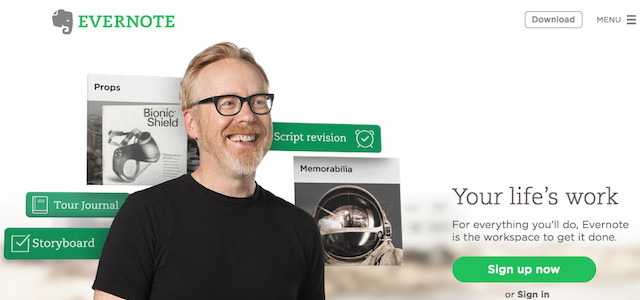 Evernote
Everyone is familiar with Evernote as the brain outside your brain. But their recently added business features can be a boon, especially if your team already uses Evernote. You can share notebooks, comment on and discuss notebooks, store notebooks offline, create presentations based on notebooks, and more. This can let your team easily store and collaborate on meeting recaps, brainstorming documents, "let's do this later" documents, or notes that go with projects.
Another huge benefit of using Evernote for collaboration is that it integrates with everything–especially if you count API integrations via Zapier. One standout that's especially relevant here is Kanbanote, which turns your Evernote notebooks into a kanban board (a la Trello, discussed above). You can browse other apps and integrations here, and look at the other products from Evernote here. Skitch, Penultimate, and Scannable are all relevant for collaboration, and they all sync seamlessly with your Evernote account.
Price: Free for basic uses, $10/user/month for business add-ons
Apps: Desktop for Mac and Windows, mobile for iOS, Android, and Windows (all free)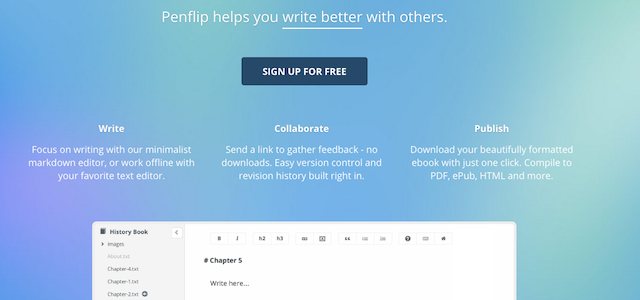 Penflip 
The idea behind Penflip is "Github for writing." Each contributor gets their own copy of the document and changes are marked; then, those changes can be added into the "master" copy of the document, one at a time. Anyone who's dealt with more than two collaborators on a Google Doc can attest that this is a great idea. 
This would be especially useful for teams that were collaborating on articles, blog posts, whitepapers, and other written content, but it's also a great way to manage your whole team's input on internal documents for your company.
Price: Free for public projects, starts at $8/month for up to 50 private projects
Apps: None
Intellinote 
Intellinote is sort of like Evernote for business, with additional project management and discussion tools attached. You can store notes, documents, photos, and files online, discuss them with your team, and then create projects and tasks to go along with those notes. You can also create project templates and share specific projects or documents with outside contributors or clients.
Price: $10/user/month
Apps: iOS and Android (free)
For the team that needs reports (that aren't awful): 
For your team's (and your business's) success, you need to keep an eye on the data. How fast are tasks and projects getting turned around? Who's not completing their work on time? Which projects are getting out of scope? But keeping track of this manually (or worse, in your head) can be a disaster. Instead, here's three tools that'll give you real data: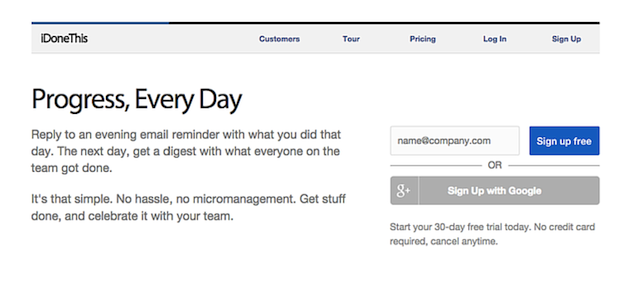 iDoneThis 
iDoneThis gives you easy to use, minimalist team accountability. The idea is simple: your team signs up, and every day, you get an email at the end of the workday asking what you did. Team members take a minute or two to reply to the email with a list of their accomplishments, and the next morning, everyone gets an email summary. 
iDoneThis keeps a log of everyone's history, so you can scroll back and see who has a history of falling behind (or staying ahead). You can also comment on others' accomplishments and thank them for their work. If your team already deals with far too much email, this might not be the option for you; but if you want to cut down on "just checking in" meetings, this can save you some time.
Price: $5/user/month
Apps: None, but it doesn't really need one–we can all reply to an email from our phones, after all!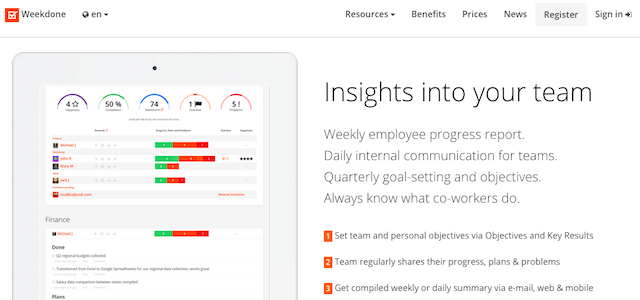 Weekdone 
If you need a little more data than iDoneThis, Weekdone might be the way to go. It's very visually appealing, offering weekly team reports, where users can check in with goals and progress. It lets managers (and team members) see project/team progress at a glance, and team members can share their progress, plans, and problems through the interface, letting bottlenecks be addressed quickly.
Price: Free for up to 3 users, paid plans start at $49/month for up to 10 users
Apps: iOS and Android (free)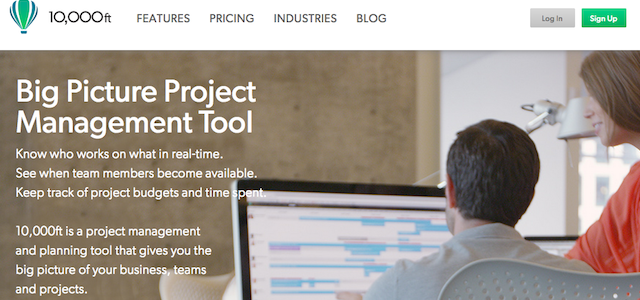 10,000ft 
10,000ft is almost like Weekdone turned up to 11. It has some similar reporting features, and more added on top of that–including resource planning and more advanced business analytics. It also features full-fledged project management and time-tracking tools. Whereas the other tools in this category are meant to complement a project or task management tool your team is already using, 10,000ft can replace those tools.
Price: Starts at $49/month for up to 5 members
Apps: Dedicated mobile site, but no app yet–iPhone coming soon.
What is your favorite collaboration tool?
Let us know in the comments. Also if you are looking for something to handle live chat with customers and collaboration with your team, check out Helloify.
Michelle Nickolaisen is a
freelance writer
/
biz owner
that lives in Austin, TX. When she's not writing (typically about business or productivity related topics), she's probably watching something involving sci-fi or superheros. When she is writing, Spotify is her best friend. She's been freelancing since 2008 and blogging since the wee age of 13 when a teacher encouraged her to start a daily writing practice.
Latest posts by Michelle Nickolaisen (see all)