We all love a great customer service story. Learn from iconic brands from around the world as we share some of the best customer service stories that demonstrate truly remarkable customer experiences that go above and beyond the call of duty.

LEGO – Awesome Customer Service in Action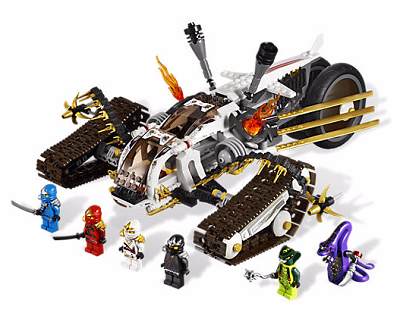 Seven year old, Luka Apps, loves LEGO and spent all his Christmas money on the Ninjago Ultrasonic Raider set. Luka lost his Jay ZX mini-figure at the supermarket, after his father's advice to leave it at home. Luka was so upset about losing his LEGO figure that we decided to a letter to LEGO customer service to ask if he could get a replacement.
Hello. My name is Luka and I am seven years old. With all my money I got for Christmas I bought the Ninjago kid of the Ultrasonic Raider. The number is 9449. It is really good. My Daddy just took me to Sainburys and told me to leave the people at home but I took them and lost Jay ZX at the shop as it fell out of my coat. I am really upset I have lost him. Daddy said to send you an email to see if you will send me another one. I promise I won't take him to the shop again if you can. Thank you. Luka
Richard from LEGO Consumer Services had this savvy response:
Thanks for sending us an email!

We are very sorry to hear about you losing your Jay minifigure but it sounds like your dad might have been right about leaving it at home. It sounds like you are very sad about it too.

Normally we would ask that you pay for a new one if you lose one of your minifigures and need to have it replaced. My bosses told me I could not send you one out for free because you lost it but, I decided that I would put a call into Sensei Wu to see if he could help me.

Luka, I told Sensei Wu that losing your Jay minifigure was purely an accident and that you would never ever ever let it happen ever again. he told me to tell you, "Luka, your father seems like a very wise man. You must always protect your Ninjago minifigures like the dragons protect the Weapons of Spinjitzu!" Sensei Wu also told me it was okay if I sent you a new Jay and told me it would be okay if I included something extra for you because anyone that saves their Christmas money to buy the Ultrasonic Raider must be a really big Ninjago fan.

So, I hope you enjoy your Jay minifigure with all his weapons. You will actually have the only Jay minifigure that combines 3 different Jays into one! I am also going to send you a bad guy for him to fight!

Just remember, what Sensei Wu said: keep your minifigures protected like the Weapons of Spinjitzu! And of course, always listen to your dad.

You will see an envelope from LEGO within the next two weeks with your new minifigures. Please take good care of them, Luka. Remember that you promised to always leave them at home.
Happy building!

Sincerely,
In a world of social media, LEGO's response and action to go above and beyond to please a little boy has done wonders for their brand, with Luka's dad tweeting LEGO's response and the story going viral and getting picked up by mainstream media.
@rjball87 We were all really impressed with the reply from Richard at @lego_group. He definitely deserves a pat on the back.

— Simon Apps (@simonapps) January 7, 2013
Not only did LEGO make Luka's day, but has earned the toy manufacturer abundant praise and publicity with a multitude of customers responding to the story, and sharing similar customer experiences and compliments to the customer service team at LEGO. As a result, millions of potential customers have read Luka's story and can take comfort in purchasing from a brand that cares for its customers.
@Arlee82 going out to buy $100 in Legos now just because I want to vote with my wallet for that level of customer care.

— Big Bear Butt 🐻 (@BigBearButt) September 16, 2016
At LEGO Everything is Awesome, but most of all, their customer service is exceptionally awesome.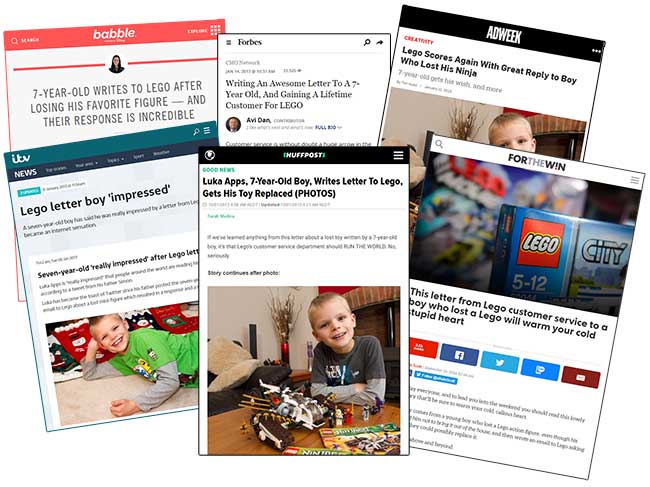 Tesla – Supercharged Solution to Customer Complaints
When a Tesla owner, Loic Le Meur, complained to Tesla CEO, Elon Musk, on Twitter about fellow consumers hogging spots at a local charging station, Musk took the feedback seriously. Within minutes, Elon Musk responded and promised to take action.
You're right, this is becoming an issue. Supercharger spots are meant for charging, not parking. Will take action.

— Elon Musk (@elonmusk) December 11, 2016
Just six days later, Tesla announced a new policy where Tesla owners would be charged if they left their cars after they finished charging. Tesla pushed a software update to their entire fleet, in response to customer feedback.
"We designed the Supercharger network to enable a seamless, enjoyable road trip experience. Therefore, we understand that it can be frustrating to arrive at a station only to discover fully charged Tesla cars occupying all the spots. To create a better experience for all owners, we're introducing a fleet-wide idle fee that aims to increase Supercharger availability."
…
"The Tesla app allows owners to remotely monitor their vehicle, alerting them when their charge is nearly complete and again once fully charged. For every additional minute a car remains connected to the Supercharger, it will incur a $0.40 idle fee. If the car is moved within 5 minutes, the fee is waived."
Tesla
With all the responsibility that comes with being CEO of Tesla and SpaceX, Elon Musk listened to a customer, offered a personal response, committed to action and executed a solution within just six days. Now that's customer service.

At incredible speed, Musk resolved a customer complaint and provided a result aimed at improving customer happiness for all Tesla users and making the supercharging experience better for everyone. It's no surprise that Tesla is the number one car brand ranked by customer satisfaction.
Elon Musk proves that it's possible to take customer complaints, as well as humans, farther from Earth than ever before.

Gaylord Opryland – Surprise and Delight Guest Loyalty
Christina McMenemy is a regular customer of the Gaylord Opryland resort that stayed at the hotel regularly for the annual BlissDom conference. On Christina's stay, she fell in love with the soothing sound played by the alarm clock radio in her room, titled 'spa', that transformed her into a blissful state of relaxation and gave her a peaceful night sleep. Christina found the music so relaxing, that she noted the model number of the alarm clock prior to leaving the resort to purchase her own.
On her third year of staying at the Gaylord Opryland for the BlissDom conference and craving a clock radio of her own, Christina remained unable to find one and sent a tweet to the resort for assistance. The Gaylord Opryland resort replied indicating that the model of the alarm clock in the hotel rooms was made only for the hotel and wasn't available to the public, but an alternative version was available.
@mommystory Unfortunately, our version isn't available to the public, but here is a Shaper Image alarm clock like it: http://t.co/WkMfISSM.

— Gaylord Opryland (@GaylordOpryland) February 26, 2012
Unfortunately for Christina, that alarm clock didn't include the 'spa' music that she had her heart set on and responded again to Gaylord Opryland.
@GaylordOpryland Yeah, that one doesn't have the spa sound. Been looking for one after loving the 1 in my room for 3yr now at Blissdom. 🙁

— Christina from OH (@mommystory) February 26, 2012
On returning to her room after the Blissdom closing night party, to Christina's surprise she found two clock radios on her dresser with a handwritten card.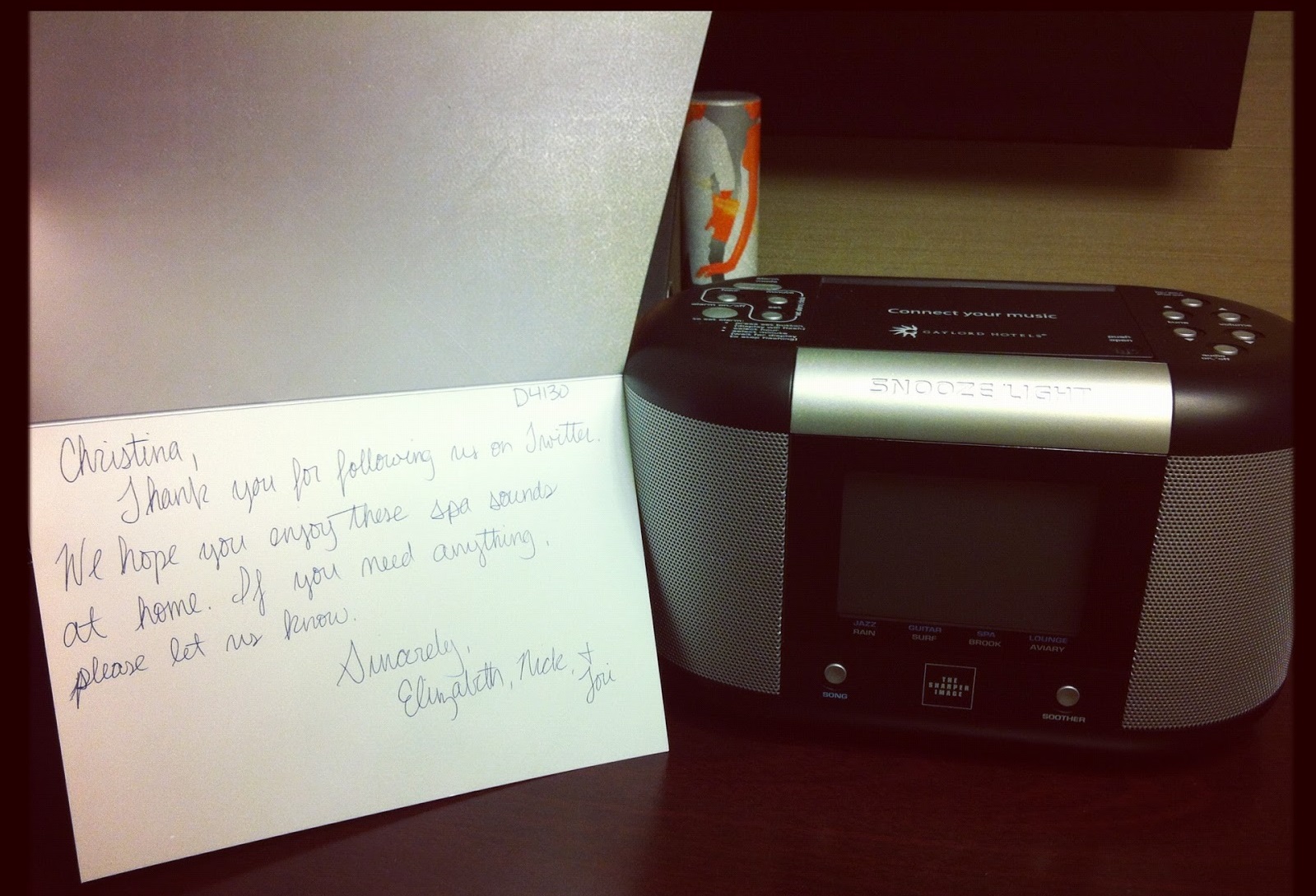 "Christina,

Thank you for following us on Twitter. We hope you enjoy these spa sounds at home. If you need anything, please let us know.

Sincerely,

Elizabeth, Nick & Tori"
Gaylord Opryland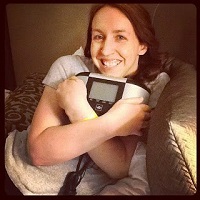 Christina was ecstatic at such a generous and thoughtful gesture and praised the resort saying, "I would have been happy to pay for one of the clock radios, but the staff at Opryland took notice of just how much I loved this thing and went out of their way to make sure I had the best experience ever."
Gaylord Opryland recognised the opportunity in ensuring a loyal and long-time customer had the most memorable experience at their resort. And not only did they win a customer for life, but have earned brand recognition and publicity from other Blissdom conference attendees through word of mouth and attention from the story.

Sainsbury's – Acts on 3-Year Old's Customer Feedback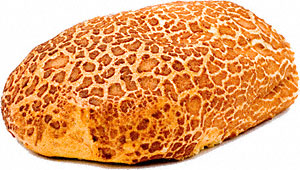 Three-year old, Lily Robinson, was puzzled by Sainsbury's tiger bread. In little Lily's eyes, the tiger bread didn't resemble a tiger at all, but it looked more like a giraffe. Lily's curiosity led her to write a letter to Sainsbury's.
"Dear Sainsbury's,

Why is tiger bread called tiger bread?
It should be called giraffe bread.

Love from Lily Robinson age 3 ½"
Jam and Giraffes
To Lily's surprise, Sainsbury's responded with a letter explaining the origins of tiger bread and enclosed a £3 gift card of Lily.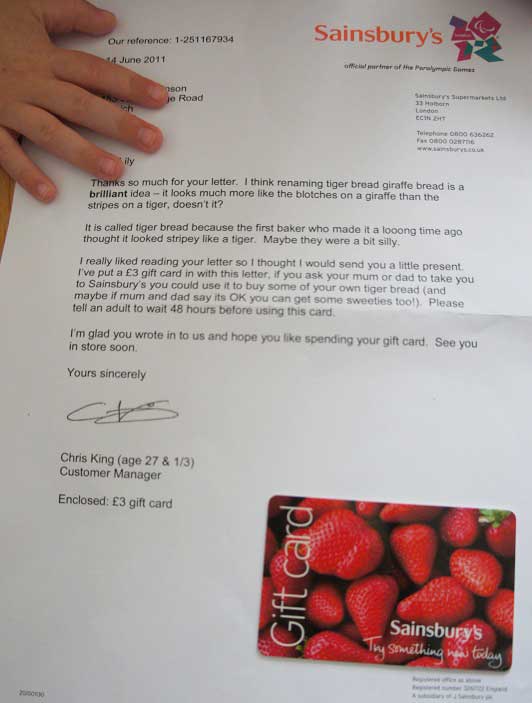 "Thanks so much for your letter. I think renaming tiger bread giraffe bread is a brilliant idea – it looks much more like the blotches on a giraffe than the stripes on a tiger, doesn't it?

It is called tiger bread because the first baker who made it a long time ago thought it looked stripey like a tiger. Maybe they were a bit silly.

I really liked reading your letter so I thought I would send you a little present. I've put a £3 gift card in with this letter, if you ask your mum or dad ro take you to Sainsbury's you could use it to buy some of your own tiger bread (and maybe if mum and dad say it's OK you can get some sweeties too!)."
Sainsbury's
Lily's mother posted the letters on her blog and before long the cute correspondence and the topic of tiger bread gained a lot of attention on social media. So much so, that Sainsbury's has now given in to popular demand and renamed their tiger bread to giraffe bread.
"In response to overwhelming customer feedback that our tiger bread has more resemblance to a giraffe, from today we will be changing our tiger bread to giraffe bread and seeing how that goes."
Sainsbury's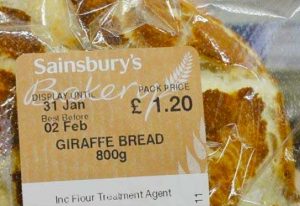 Despite the fun and light-hearted contents of Lily's customer feedback, Sainsbury's listened to her suggestion and responded by taking subsequent action to change the name of the product from tiger bread to giraffe bread.
The supermarket understood that the customer was right in this instance and Sainsbury's actions have proved their strong commitment to customer service.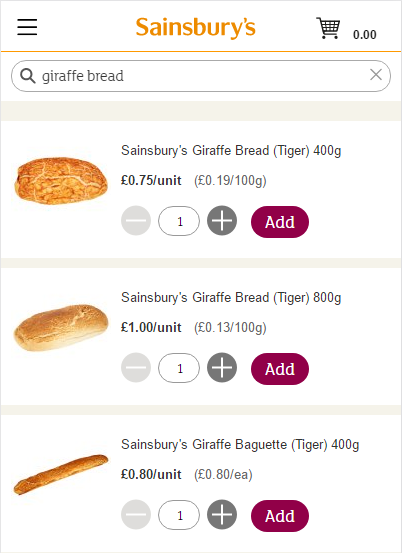 Samsung – Free Phone for Brand Champion
Shane Bennet sent a message to Samsung Canada on Facebook, cheekily requesting a free Galaxy S3 phone and attached a drawing of a dragon with his message.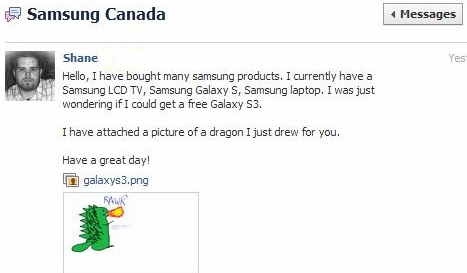 Entertained at Shane's request and drawing, Samsung responded with equal candor. Samsung declined Shane's request, suggesting that if they gave free phones to everyone that asked for one, the company would go broke. The response from Samsung wasn't completely hollow, but included a drawing of a kangaroo on a unicycle for Shane's enjoyment.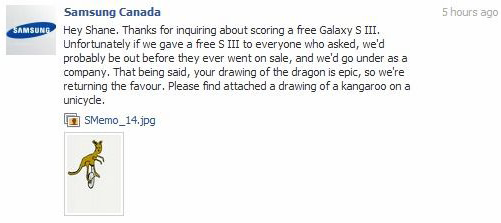 Amused by Samsung's reply, Shane took to Reddit and posted a photo of the exchange with a caption, "Well, Samsung Canada has won me over again". The screenshot was quickly voted up onto Reddit's front page and went viral on social media networks.
Samsung Canada kept in touch with Shane Bennet, inviting him to a launch party.
Months later, Shane received a new free phone from Samsung Canada. And not just a Galaxy S III, but one made especially for him. The phone was custom made and decorated with Shane's dragon drawing. Even the packaging was custom printed with the dragon drawing.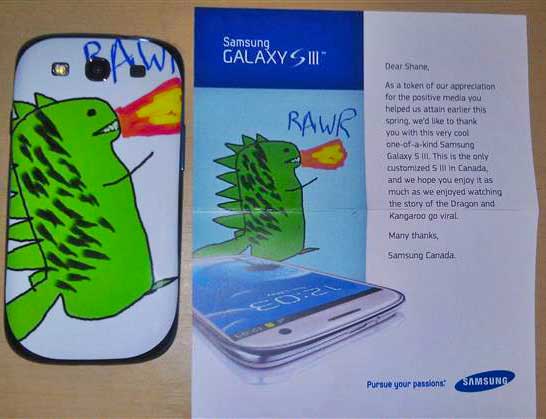 "Dear Shane,

As a token of our appreciation for the positive media you helped us attain earlier this spring, we'd like to thank you with this very cool one-of-a-kind Samsung Galaxy S III. This is the only customized S III in Canada, and we hope you enjoy it as much as we enjoyed watching the story of the Dragon and the Kangaroo go viral.

Many thanks,"
Samsung Canada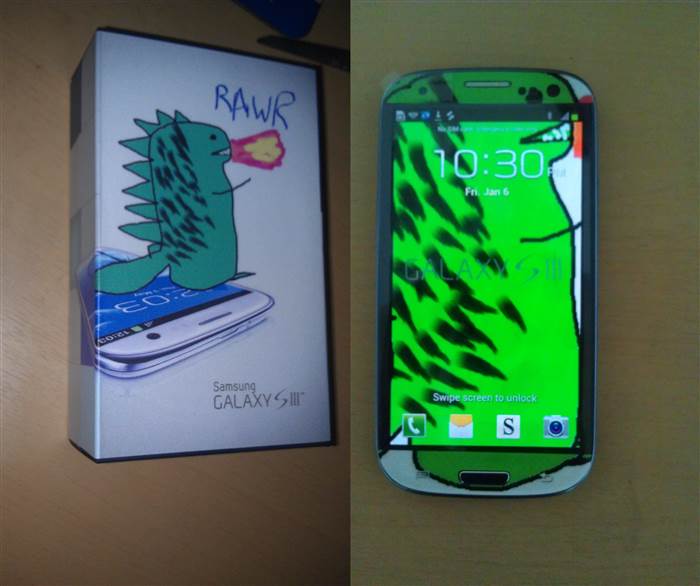 Every customer interaction can be transformed into a win. Samsung demonstrated that you can offer personal service and make a great impression, even when refusing a customer request. Samsung's response created a customer experience that Shane wanted to share with the world.
Happy, satisfied customers have the potential to be brand champions that are so delighted by the experience you deliver, that they too promote and bring new customers to you by singing the praises of your brand.
Helloify is a sophisticated, yet simple live chat service that lets you communicate with web site visitors and increase sales on your web site.
Add it to your site now
.