Aussie entrepreneurs aim to reinvent business messaging
Helloify launches live chat and messaging app to help businesses boost sales and increase customer happiness.
Gold Coast, AUS: Today Helloify Pty Ltd, an Australian startup, released their multi-platform business messaging app in public beta. Founded by Australian entrepreneurs Luke Ronalds and Dan Norris, Helloify combines the best of live chat and team chat software into a unique messaging experience.
"Consumers have come to love the ease of messaging their friends via apps like Facebook Messenger and WhatsApp. But what about messaging businesses? We believe consumers want the same ability to interact with businesses and not have to resort to painful experiences like calling and leaving voicemail messages," says co-founder Dan Noris.
Helloify's current beta release realizes that vision. Businesses install a website widget where people can send live messages or register a mobile number to have customers text them. All messages come into the multi-platform app, and the whole team can read and reply.
"The team chat is a key differentiator" says Norris. "When we started development, we looked at the messaging and live chat tools on the market; the team aspect is not done well. When customers contact a business, they don't want a reply from a chat operator, they want a solution. Having the whole team in the app means the team can work together, and solve the problem right then and there".
Helloify is available as a web app and a native app on Windows, Mac, iPhone and Android. Co-founder Luke Ronalds elaborates "We wanted to avoid the old school live chat experience integrating with Jabber clients and the like. Businesses expect to be able to install an app, log in once, and go. That's particularly true with messaging, where speed is critical."
The software offers a free plan that supports customer messaging with unlimited chats. Paid plans are available for the team and SMS features. Paid plans start at $19 / month.
Helloify is now available to the public in beta, at helloify.com.
About Helloify: Helloify.com is an Australian based business communications company, founded by Luke Ronalds and Dan Norris.
CLICK TO TWEET "New app @helloify launched. Free live chat plus team chat and SMS for business #startups http://ctt.ec/k5Fhr+"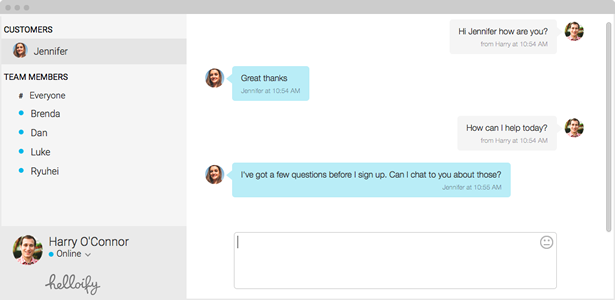 Latest posts by Dan Norris (see all)